Pfffttt...
I stopped by to visit Doug over at
Borderland
this afternoon, and he had the results of a quiz posted. I don't take every quiz that hops down the intertubes, but this one sounded interesting, especially after I got the results: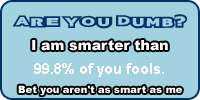 Am-I-Dumb.com - Are you dumb?
It helps if you know the difference between a kilo and a pound, and between "affect" and "effect." Other than that, you're on your own.